2020 LEGISLATIVE SESSION UPDATES
Legislative Update, February 19
The 2020 legislature is set to adjourn at noon tomorrow, Thursday, Feb 20.  Both Senate and House chambers are currently in session (9:08pm).  The Senate today approved HB 2, the General Appropriation Act.  We will have a full report of impacts the $7.6 billion budget bill will have on NMSU tomorrow.
We're still watching for final action on SB 207 2020 Capital Projects GO Bond Act, which includes $30.4 million in projects for the NMSU System, and HB 349 Capital Outlay Projects, which includes $8.6 million in projects for NMSU statewide.
For the Opportunity Scholarship, the bill includes $17 million for an Opportunity Scholarship, with $12 million be recurring and $5 million non-recurring.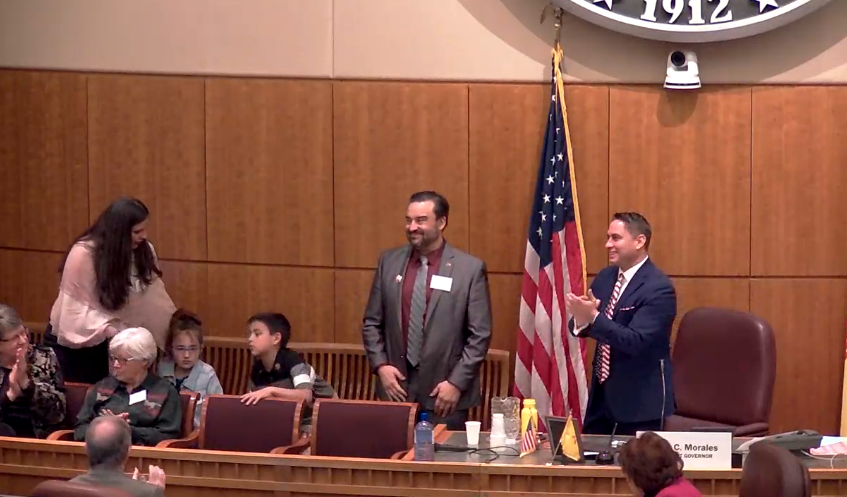 Legislative Update, February 17
The Senate today confirmed Mr. Arsenio Romero, who is Superintendent of Deming Public Schools, to serve on the NMSU Board of Regents. Mr. Romero's family joined him on the Senate Floor for his confirmation.
The House Taxation and Revenue Committee today reported the committee substitute for HB 349 (STB/GF Capital Outlay Bill).  The bill includes a total of $8,557,000 for the NMSU system (excludes funding for the Soil and Water Conservation Districts).  The Senate Finance Committee also met this afternoon and reported SB207 (General Obligation Bond Bill).  The bill includes a total of $29,291,000 for the NMSU system.  A summary and detail tabled are below.
Legislative Update, February 12
The Senate Education Committee today passed SB 323, Opportunity Scholarship Act, the companion bill to HB 14.
Yesterday, the House Appropriations and Finance Committee tabled a number of NMSU-related bills, including HB 168 Statewide Ag Ed Programs, HB 253, NMSU Agricultural Programs, HB 165 Study Groundwater Resources in New Mexico, and HN 166 Healthy Soil Program Funding.
February 11
The House Education Committee today passed the committee substitute for HB 14 Opportunity Scholarship Act.  Its companion bill, SB 323, will be heard in the Senate Education Committee on Wednesday.  The House Appropriations Committee is scheduled to take up NMSU and NMDA-related bills tomorrow, such as HB 253 NMSU Agricultural Programs, HB 297 Research Grants Closing Fund, HB 165 Study Ground Water Resources in NE NM, and HB 168 Statewide Ag Ed Programs Funding.
Saturday, Feb 8
Both the House and Senate are in session in Santa Fe today and tomorrow. A couple of bills scheduled to be heard in committee that we're tracking today involve changes to retirements funds: HB 46 and SB 111.  On Monday, HB 14, the Opportunity Scholarship Act, will be heard in the House Education Committee, where they will consider a substitute for the original bill.  Also considered will be HB 134, Funding to Improve Educational Outcomes, and HB 136 American Indian Student College Readiness Program.
2020 LEGISLATIVE PRIORITIES
The 2020 Legislative Session begins on January 21, 2020.  New Mexico State University undergoes a long and intensive process to determine what legislative priorities it will put forth during the session. Below is the legislative items that NMSU will seek at the upcoming session of the New Mexico legislature.
2020 Legislative Priorities Book
In preparing for the 2020 Legislative Session, the Office of Government Relations prepared a Legislative Priorities Book with more details. Click on the image below for this year's book (some of the image quality has been decreased in order to reduce the size of the document).